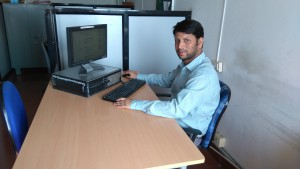 Education
M.E.(Computer Engineering)
PhD Pursuing(Computer Science and Engineering)
Area of Interest
Networks
Network Performance
Mobile Application
Virtualization
Publication
"Comparative study of trust and reputation security model in IoT network" International Conference On Intelligent Computing and Control Systems 2019, IEEE ICICCS May 2019, Tamil Nadu
"Fire contour approximation algorithm for bord-and-pillar coal mine: Revisited", Sensors Applications Symposium 2018, IEEE SAS 2018, Seoul, 2018, pp. 1-6.
"Dynamic Sequence Number Thresholding protocol for detection of blackhole attack in Wireless Sensor Network", International Conference on Communication, Information & Computing Technology 2015, Mumbai
"Trust and Reputation Model Overcoming Threats in Wireless Sensor Network" Recent Advances and Challenges in Engineering and Management 2014, Journal of Applied Engineering and Technologies, vol:3 issue:1, ISSN: 2278-1722.
Professional Training, Workshop and FDP
Two week MeitY approved FDP on "Machine Learning" conducted by E&ICT Academy, IIT Kanpur, 2021
One day AICTE workshop on "Webinar on Citations and Reference Management using Mendeley" conducted by BVIACM, New Delhi, 2020
One week AICTE FDP on "Unleashing Potential of Data Science for Engineers (Machine Learning and Artificial Intelligence)" conducted by SAS, 2019.
One week training program on "IoT BootCamp" by IB-Hub, 2018
One day workshop for "Image and Object Classification with DIGITS" by Nvidia Deep Learning, 2018
Three days workshop on "Artificial Intelligence and Deep Learning" by Bennett University, 2018
One week ISTE FDP for CAS on "Pushing Boundaries of Wireless Technologies" conducted by SPIT, 2017
Two days workshop "NEN Entrepreneurship Educator Program" conducted by Wadhwani Foundation, 2016
Two days workshop on "Design Thinking" conducted by SPIT and SPJIMR, 2016
One year Training in Programming Analyst Trainee in Advanced Java for BFS, Cognizant Pvt. Ltd, 2015
"Android Certification" by IIT Bombay and MHRD, 2014
Expert/Guest Talks/Hands-on/Session/STTP/Workshop Conducted/Organized
Conducted Hands-on Session on "Pyspark in Google Colab" for AICTE approved two week FDP on Insights Into Intelligent Automation Machine Learning and Data Science at SPIT, Andheri, Mumbai.2020
Delivered Guest Talk on "BlockChain and Cloud Computing" at VIVA College, Vasai, 2019.
Organized expert talk on "Opportunity for Higher Studies in Abroad" by Mr. Ashish Nargundkar (Amazon Pvt. Ltd.).
Organized One week training program on "IoT BootCamp" with IB-Hub, 2018.
Organized "IoT Inter Throne Competition" with Reliance Unlimit, 2017
Organized "IoT Symposium" with LabX Foundation MIT, Boston and IEEE Bombay Section.
Organized One week FDP on "Technology Convergence and Its Practices" with IEEE bombay Section and WIF, 2016
Organized two day workshop on "Android Application Development" at SPIT, Mumbai, 2016
Consultancy/Sponsored/Funded Projects
Developed an "AI ChatBot" for eBZaar platform of Yamini India Pvt. Ltd.
Developed "Automatic Attendance Marking System" for IB-Hub
Others
Reviewed two chapters of a book based on IoT domain for McGraw Hill
Credit Suisse "CS Lab" Coordinator.
JPMC "SCOPE Course" Coordinator.
Suven Technology "Coding Course" Coordinator.
Contact Information
Email: abhijeet_salunke{at}spit.ac.in Ext:371 Room No.607, 6th Floor,Department of Computer Engineering, Sardar Patel Institute of Technology, Andheri(W), Mumbai 40005